Surya Dharana (60 tablets)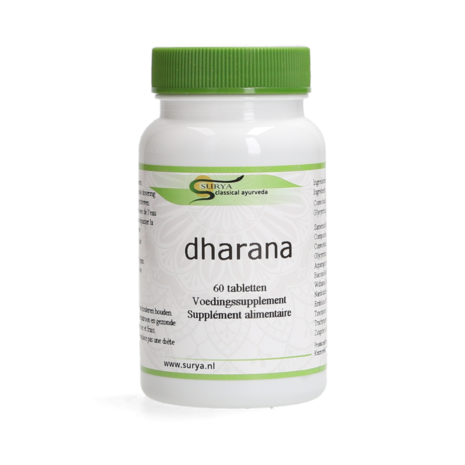 Product description
Due to its unique composition, Dharana helps to maintain a healthy nervous system. Helps with depression and melancholy. Provides stability during ups and downs and gives weak nerves a beneficial rest.
Usage
2 times daily 1 tablet with warm water before meals. Do not exceed maximum dosage.
Ingredients
Convolvulus pluricaulis 100mg, Glycyrrhiza glabra 100mg, Asparagus racemosus 50mg, Bacopa Monnieri 50mg, Withania Somnifera 50mg, Nardostachys jatamansi 50mg, Emblica officinalis 40mg, Tinospora cordifolia 20mg, Trachyspermum ammi 20mg, Zingiber officinale 20mg
Product specifications
Article number

1113

SKU

C1113

EAN

8720289611132

Suitable for vegetarians:

Yes

Additives

No

Capsule

Vegacaps

Producent

Surya Products BV. Dit product wordt vervaardigd volgens de ontwerpnorm ISO-EN-NEN 22000 en conform het HACCP plan.
Show more
Show less