Ojas Chyavanprash Kerala - Fruit paste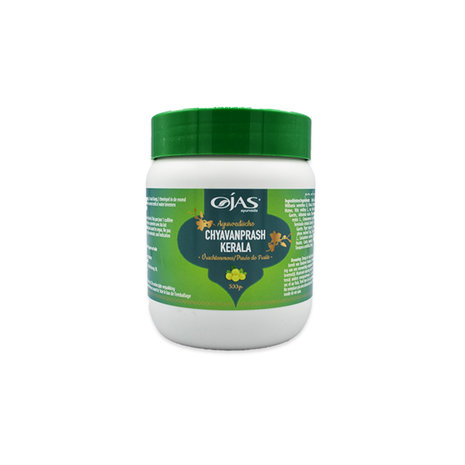 Product description
Is a general tonic with lots of vitamin C. It works as a Rasayana. Strengthens the heart and immune system. Our Chyavanprash is a 100% natural product.
Usage
2 times a day, let 1 teaspoon melt in the mouth or take with warm milk or water before meals.
Ingredients
Emblica officinalis (Amla), Withania somnifera (L.) Dunal, Elettaria cardamomum (L.) Maton, Vitis vinifera L., var. tinctoria, Nelumbo nucifera Gaertn., Adhatoda vasica, Piper longum L. Tribulus terrestris L., Cinnamomum spp., Glycyrrhiza glabra L., Terminalia chebula (Gaertn.) Retz., Nelumbo nucifera Gaertn.,Piper nigrum L., Acacia catechu, Commiphora molmol Engl., Trigonella foenum-graecum L., Coriandrum sativum L., Myristica fragrans Van Houtte, Carica papaya L., Asparagus racemosus, Tinospora cordifolia, Honey
Product specifications
Article number

8461

SKU

C_B8461

EAN

8717496084613

Additives

No

Suitable for vegetarians:

Yes

Producent

Surya Products BV. Dit product wordt vervaardigd volgens de ontwerpnorm ISO-EN-NEN 22000 en conform het HACCP plan.
Show more
Show less