Surya Chitrakadi vati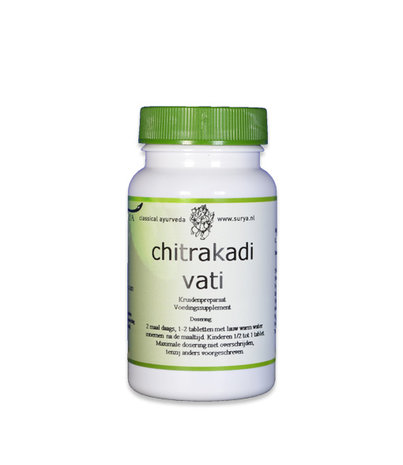 Product description
Chitrakadi vati supports the digestive tract and stimulates metabolism.This supports fat burning. Chitrakadi vati works for detoxifying the body.
Usage
1-2 tablets 2 times daily with lukewarm water after meals
Ingredients
Trikatu, Pancha lawan, Plumbago zeylanica, Piper retrofractum, Piper longum, Ferula asafoetida, Sarjichar, Trachyspermum ammi, Yekakchar
Product specifications
Article number

8353

SKU

C8353

EAN

8717496083531

Suitable for vegetarians:

Yes

Additives

No

Producent

Surya Products BV. Dit product wordt vervaardigd volgens de ontwerpnorm ISO-EN-NEN 22000 en conform het HACCP plan.
Show more
Show less