Surya Batani - Vega caps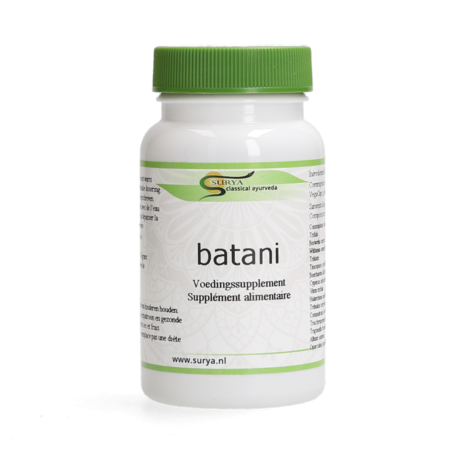 Product description
Batani for healthy joints and support the joints. Provides relaxation in the joints. Batani removes vata from the joints. Batani contains Commiphora mukul. Color difference in capsules: Batani has the main ingredient Commiphora mukul and an improved processing process has created a color difference. However, this does not have any adverse effect on the quality of the product.
Usage
Take 1-2 capsules of warm water once a day, before meal.
Ingredients
Commiphora mukul, Vitex trifolia, Triphala, Holarrhena antidysenterica, Boswelia serrata, Tribulus terrestris, Withania somnifera, Coriandrum sativum, Trikatu, Trachyspermum ammi, Tinospora cordifolia, Trigonella foenum-graecum, Boerhaavia diffusa, Allium sativum, Cyperus articulatus, Operculina turpethum, VegaCapsPlus
Product specifications
Article number

8478

SKU

C8478

EAN

8717496084781

Suitable for vegetarians:

Yes

Additives

No

Capsule

Vegacaps

Producent

Surya Products BV. Dit product wordt vervaardigd volgens de ontwerpnorm ISO-EN-NEN 22000 en conform het HACCP plan.
Show more
Show less